Important Warning Signs – Leaking Pipe Repair
A leaking pipe repair is an essential plumbing service for every business or household. It will help you to reduce your utility bill. However, for most people, identifying a pipe problem isn't so easy.
When pipe problems occur and your plumbing stops working, everything can suddenly turn upside down. Even the most basic task, like using the bathroom, doing the washing, or even simply washing your hands, will become impossible.
When your pipes aren't working properly it will be a real challenge to keep your business or household running the way that it should. So, you'll need a plumbing company that you can trust to take care of this problem for you. In which case, look no further! You can rely on MJC Plumbing to help.
In most cases, your pipes will be located between the walls and under the floors in your home or business premises. This means that it will probably be impossible for anyone but a professional plumber to get to. They'll then be able to assess the situation and confirm what the problem is.
Our experienced engineers know what they're doing, and they will ensure that all the necessary work is carried out to the highest standard.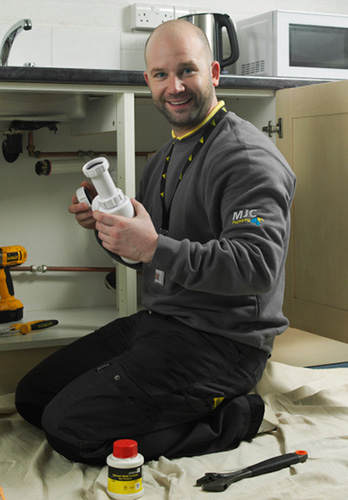 Did you know that a pipe leak can cause you to lose several gallons of water? Imagine how big your water bill would be! If you don't deal with a pipe problem right away you'll also end up spending a vast amount of money on trying to rectify water damage.
You can see why identifying the signs of a problem in the early stages will be crucial, right?
Here are some warning signs:
Low water pressure
If you have low water pressure in your home or business, this might be a result of an issue with your water pipe. Be sure to act quickly when your pipe fails!
Holes and cracks in piping
This usually occurs in older pipes. If you detect this you should be concerned. This type of damage will only get worse if it isn't dealt with.
Corroded pipes
Check outside pipes and pipes in other areas like your basement. If you spot signs of this, particularly inside your home or business, your pipes will need to be replaced right away. Failure to act quickly may result in your pipes breaking apart.
Damp floors and walls
Water stains on your floors and walls are classic signs. Make sure you get help with a leaking pipe repair before you end up with some serious water damage. When you allow a situation like this to continue, you'll also increase the risk of mold growth!
Rusty spots
If you're in need of a leaking pipe repair, it's more than likely that you'll see rust spots on pipes throughout your home or business. This is also an indication that you have rusting pipes that probably all need replacing.
Old pipes
The older your home or business premises is, the more likely you'll experience problems in this area. MJC Plumbing is more than happy to look into this, just in case! ?
Don't allow problem pipes to cause havoc in your business or household. Contact us today on 020 7064 6777 to schedule your leaking pipe repair.